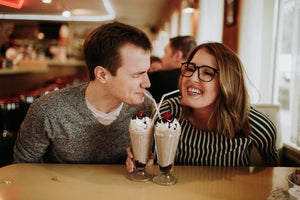 Threads & Thistles Inventory
Our Mission
At the risk of sounding like a pageant contestant, Thomas and I both believe in making the world a better place. Why not start with the world of gaming? As a woman and a more feminine person in gaming, I often experience discrimination and harassment. Thomas has had his own share of difficult experiences because he doesn't awlays fit your stereotypical gamer mold you often see set by men in gaming. Because of these experiences, we have decided to take action and build a community of like minded gamers.
I named the shop "Threads & Thistles Inventory - A Gamers' Boutique", simply because it sounded feminine. Our goal is to show you that there is not one type of gamer. In Threads & Thistles Inventory, you'll notice that the majority of our designs are unique and unlike the typical gaming style found in stores. No matter what type of gamer you are, our brand aims to help you feel seen and to help you confidently pursue the hobby you love!
meet the owners
Alyssa & Thomas Dykstra
While I am the founder and the face of the business, I wouldn't be here without my husband, Thomas (Tom). You've probably seen photos of him in my social media, but what you don't know is that he does a lot of the behind the scenes work. While I handle everything from designs, customer service, marketing etc., Thomas helps the business by managing finances, shipments, business tools, and more. Most importantly, as my best friend, he keeps me level headed! We wouldn't have this business without each other. We're both so lucky to have a partner with the same interests!
Meet the copywriter
EMILY STROUP
Emily is the witty mastermind behind all of the product descriptions in Threads & Thistles Inventory. She says, "Since I've always loved playing video games, writing about them in a casual, accessible way has been incredibly fun and fulfilling!" Like the rest of the TTI team, she is a strong feminist and an avid gamer, as well as one of my closest friends. Her two favorite games are the Dragon Age games and Detroit Become Human. She's also the reason Skyrim is now one of my all time favorite games! Emily would describe her aesthetic as "grandma academia", which is expressed both in her fashion style and social media- even on her Animal Crossing island!
Meet the designer
Jimena Fernández
Jimena is my go-to designer whenever I need more of my complicated ideas to come to life, and she was one of my initial designers to help me with the first shop designs before I got my Ipad, like the "Leah's Feelings" design you see her wearing in the photo! She primarily does illustration and concept art, and she says she most enjoys character drawing for games. Jimena describes herself as a huge D&D nerd, and she even creates full designs for her D&D characters!
meet the designer
Diana Puigferrat
Diana is another designer and friend of mine I love working with- and I particularly love working with her for patterned designs! She helped me with the Korok designs from the Zelda collection, which have now become some of the most popular designs in the store. Make sure to check out her portfolio and read more about Diana below!
support our mission and
join our team!
We are looking for a diverse group of content creators who are willing to help represent our brand! If you agree with our mission and you wish to represent TTI with cool perks, then come and see if you qualify to become an ambassador!
Yes! Under the Fair Use policy in the USA, I am legally allowed to sell designs that are not canon to the original designs based off of the video games. You will notice many of the designs based off of video games are creatively transformed, some more than others. I do get my designs double checked by the manufacturer I work with to be extra safe. I also make a point to reach out to indie creators to make sure they are comfortable with me making designs based off of their game. If they reach back out to me and tell me they do not want me making designs for the shop, then I don't.
I own all of the copyright to all of the designs, and all of the designs in TTInventory are owned by me. All ideas are mine, and I do occasionally get help from some talented illustrators who help me bring more complicated ideas I have to life. You can read more about them on the highlight on my instagram page.
For the majority of the products in the shop, we go through drop shipping with manufacturers we trust. This process has been very helpful for us since we currently don't have a physical store. We also own a warehouse with one of our manufacturers so we can order custom products from other suppliers, and have our manufacturers ship them to you for us! We will frequently host giveaways or sell limited edition products such as Valentine's Day cards, and in these cases, we enjoy packaging and mailing orders ourselves to provide more of a personal touch!
We work with eco-conscious brands such as Gildan and Bella+Canvas, the only two brands we currently use for our apparel. For other products, such as the candles, we look for manufacturers who use vegan products without any allergens.
We use packaging made of post-consumer recycled plastics for all apparel orders shipped from our manufacturers facilities. Our manufacturers reduced the use of packaging altogether, for instance by using triangular cardboard boxes for poster orders to replace tubes with plastic end caps. Any plastic used is made from Recycled Materials. 
Having fulfillment centers close to our customers is good both for the business and the planet. Strategically located fulfillment centers allow for faster shipping times and lower shipping costs, and it also helps with reducing the CO₂ emissions produced when transporting orders.